The Rap Hippies
[Watch] Childish Gambino Drops Jaw-Dropping Visual for 'This is America'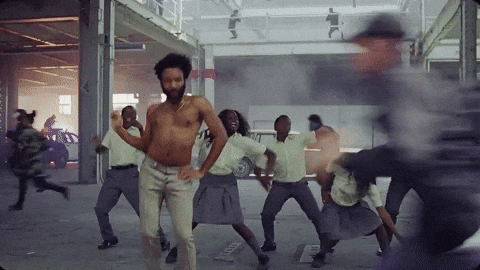 Childish Gambino hits us with body rolls and deep symbolism with his 2018 comeback!
Donald Glover brought back his alter ego, that has been silent since 2016, last night and WOW. Last night Glover hosted SNL and naturally he killed it. Afterwards the genius marketing behind the machine of Childish Gambino decided to drop a new video, This is America. There's so much imagery in this video we don't know where to start!
The visual all takes place in an empty warehouse that Gambino has created different sectors of happiness and tragedy all in one. That's right ladies and gentleman dancing and mass murders are in this one! The tone is dark with deep drums yet strangely still upbeat. There is so much to this one from the kids smiling and dancing in the background with deep rooted cultural influence to a complete obliteration of a black choir. Sheesh, it's too much of a roller coaster!
It seems as if Gambino is trying to describe the dichotomy between life and being carefree and then death in America, specifically in the black community. Check out this visual conversation starter below and tell us what you think!